Mask Hairstyles for Men: 7 Styles That Are Perfect for Face Masks
With COVID-19 going strong, masks are something that we've all become familiar with. In most places around the world, masks are now mandatory outside the home, so it's no wonder that these necessary pieces of personal protection equipment are transforming your look.
With over half of your face covered, your defining features are now restricted to everything above the nose: your eyes, your eyebrows, and your hair. So how do you make the most of these limitations and keep up your appearance? By focusing on your hairstyle.
Below are some of the best men's hairstyles for face masks, so keep reading to find out which style you should try!
Hairstyles to Avoid While Wearing a Mask
Not being able to read the other's facial expressions or express your emotions well with a mask on, is a common problem. Since taking your mask off in public is likely out of the question, there is another way you can express yourself and still give off a good impression: improve your appearance by focusing on areas not covered by a mask.
Not only can the right mask-friendly hairstyle make you more approachable, face masks tend to make you look anything but stylish, ruining your appearance. So, if you've found yourself struggling to look good these days, here are a couple of possible reasons why.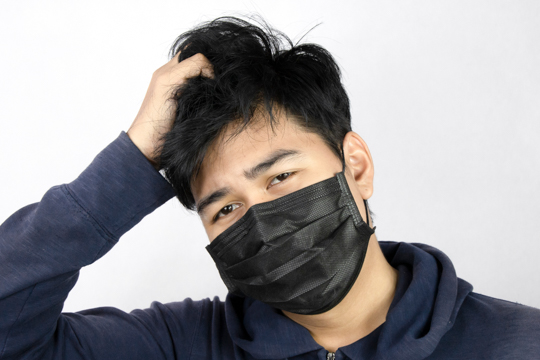 Your Hairstyle Minimizes Facial Movement
Since masks cover so much of the face, it's up to the eyes, eyebrows, and hair to provide a sense of movement.If your fringe doesn't have movement due to its length or how it lays across your forehead, it can make your face look flat and inexpressive. To help give your fringe movement while keeping it in its desired shape, consider trying hairstyling products.
Your Hairstyle Covers Your Forehead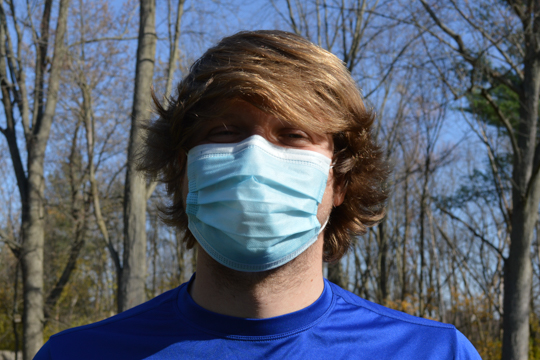 If you have a fringe that's too long and sweeps across your forehead, almost your entire face will be covered when wearing a mask. This can completely hide your face and even make you look intimidating or frightening.
This kind of style can also make your face look flat, since it causes shadows to fall across your eyes, which when combined with the shadows created by the mask, make your face appear darker than it really is.
7 Men's Hairstyles That Look Great with a Mask
The right hairstyle can do wonders for your appearance — with or without a mask. But since masks are mandatory in today's culture, we've centred on a few men's styles that go best with a face mask.
Essentially, you need to focus on two points:
Add movement to your hairstyle
Make your forehead visible
These will create a nice contrast and depth to your face even with a mask on.
Faux Hawk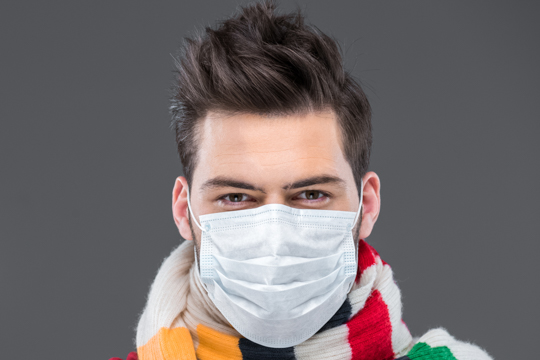 The faux hawk is a less dramatic version of the mohawk. The sides are clipped short with a taller strip of hair along the middle of the head, but there isn't that much of a difference in length between the two areas.
This hairstyle is great for pairing with masks because it's clean-cut, attractive, and keeps your hair off your face. Faux hawks are also easy to maintain, which is a major bonus of the look.
Quiff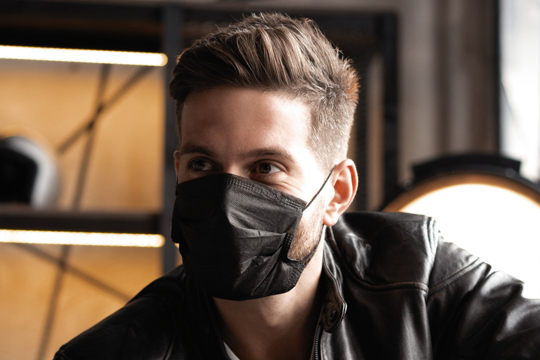 The quiff is a hairstyle where you brush the hair forward to create vertical volume at the front of the head for a light and bouncy look. The front can then be styled toward one side or the other. Since both hairstyles are known for their volume, the quiff is a very voluminous hairstyle that gives the eye somewhere to rest.
The quiff matches well with a mask because it gives volume and movement to the top of the head while also creating extra dimension with the shorter sides and back. The style can help you look polished and clean — like you understand the importance of taking time to get ready.
Pompadour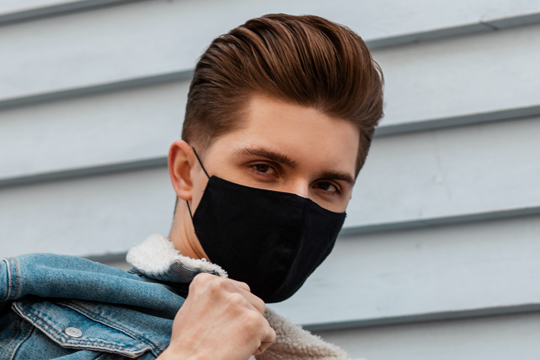 The pompadour consists of a long fringe that's brushed up and back from the forehead. The hair is then swept back and styled with striking volume. The hairstyle can come with either shaved or very short sides, or sides that have been slicked back.
The pompadour takes attention away from the mask, which is but one of the many reasons it's a popular look for men these days. Its volume also helps the hair look healthy and neat, giving the wearer a handsome appearance.
Side Part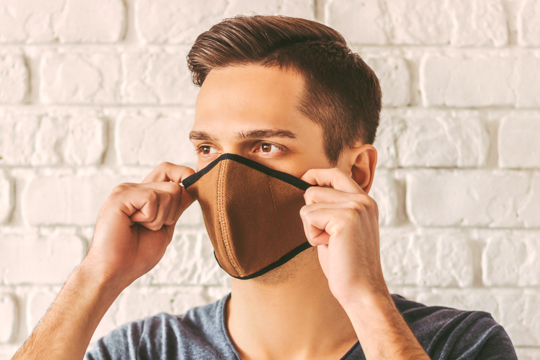 The side part is exactly what it sounds like — a part that has been made to one side of the head. The part can be made toward either side, and the hair used to make the part can be long and loose or short and styled. A side part is a critical component of other hairstyles, since it can be used in tandem with basic cuts.
Side parts are great for anyone who wants to have a fringe but doesn't want their entire face to disappear when a mask is worn. This is mostly because the fringe is only on one side of the face, leaving the other side open and free of hair. The contrast that this hairstyle creates can give you a refreshing, clean look. If you're having a hard time styling your side part, you can secure it in place with hair spray.
Centre Part / Curtain Bangs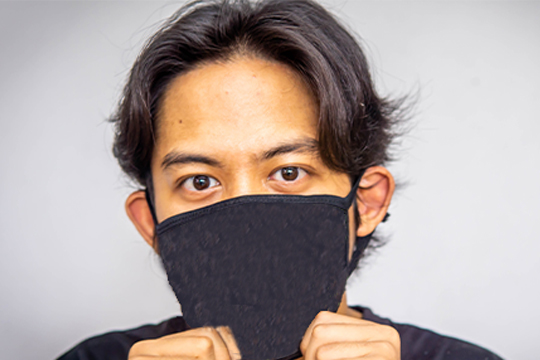 Like the side part, the centre part (also known as curtain bangs) is an essential component of many men's hairstyles, and it can make all the difference when it comes to wearing a mask. The centre part is ideal for men who want to have longer hair while wearing a mask because the placement of the part — along the centre of the head — makes it easy to sweep the hair on either side away from the face, keeping your forehead and eyes visible. One side of the part can even be longer than the other, giving the hairstyle a bit of extra volume and intrigue.
With a centre part, neither the mask nor the longer fringe will cover the forehead, so it can create a clean and presentable impression.
Undercut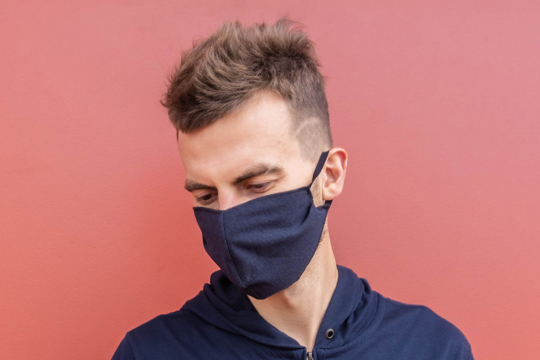 The undercut hairstyle is defined by a longer top with shorter sides and back, and is the foundation for many of the hairstyles we've already mentioned. While it can be transformed into a pompadour or a quiff, it can also be left just the way it is for a simpler, go-to style.
This style is good for mask-wearing, because it's simple and doesn't take away from any fun designs you may be sporting on your mask. In addition, it looks sleek and classy. Also, clean sides mean putting on and taking off a mask doesn't interfere with your hairstyle, so it saves you the hassle of re-adjusting your hair throughout the day.
Coloured Hair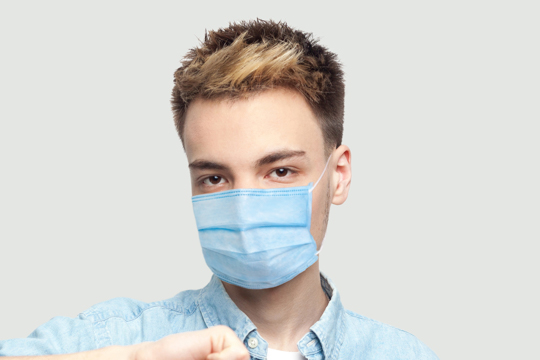 Now, you may think that hairstyles are limited to how you cut your hair — but they can also refer to how you colour your hair. If your mask is a solid colour, adding a bit of colour to your hair can give you a more youthful, fun appearance.
For example, if you wear a black mask most of the time, having blonde or light-coloured highlights contrasting against darker hair can make a world of difference. The best part about this hairstyle is that you can colour your hair and then cut it to any of the styles we mentioned above.
Facial Hair and Eyebrows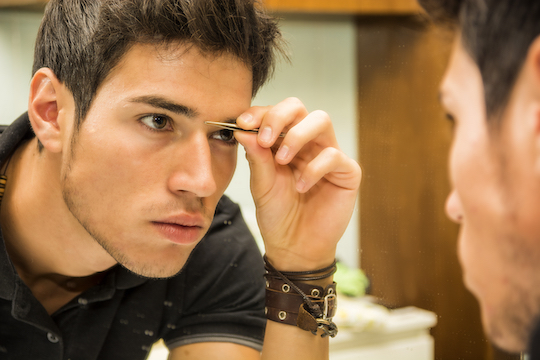 When it comes to styling your facial hair and eyebrows, you should go with what best compliments your hairstyle. For example, if your hair is neat and tidy, you should style your facial hair and eyebrows to match it.
With a face mask, eyebrows are almost as important as your hairstyle — so make sure you trim and remove stray hairs for a good, clean impression.
Also, putting a mask on doesn't mean you can get away with not shaving your face. There are many occasions where you may need to take your mask off, such as when eating and drinking or during an online meeting. Consider looking into grooming your beard for these occasions.
Official CDC Guidelines for Men's Facial Hair
The U.S. Center for Disease Control and Prevention (CDC) has a lot to say surrounding the topic of COVID-19. They have come up with various guidelines for personal protection including the following for facial hair — especially for healthcare workers.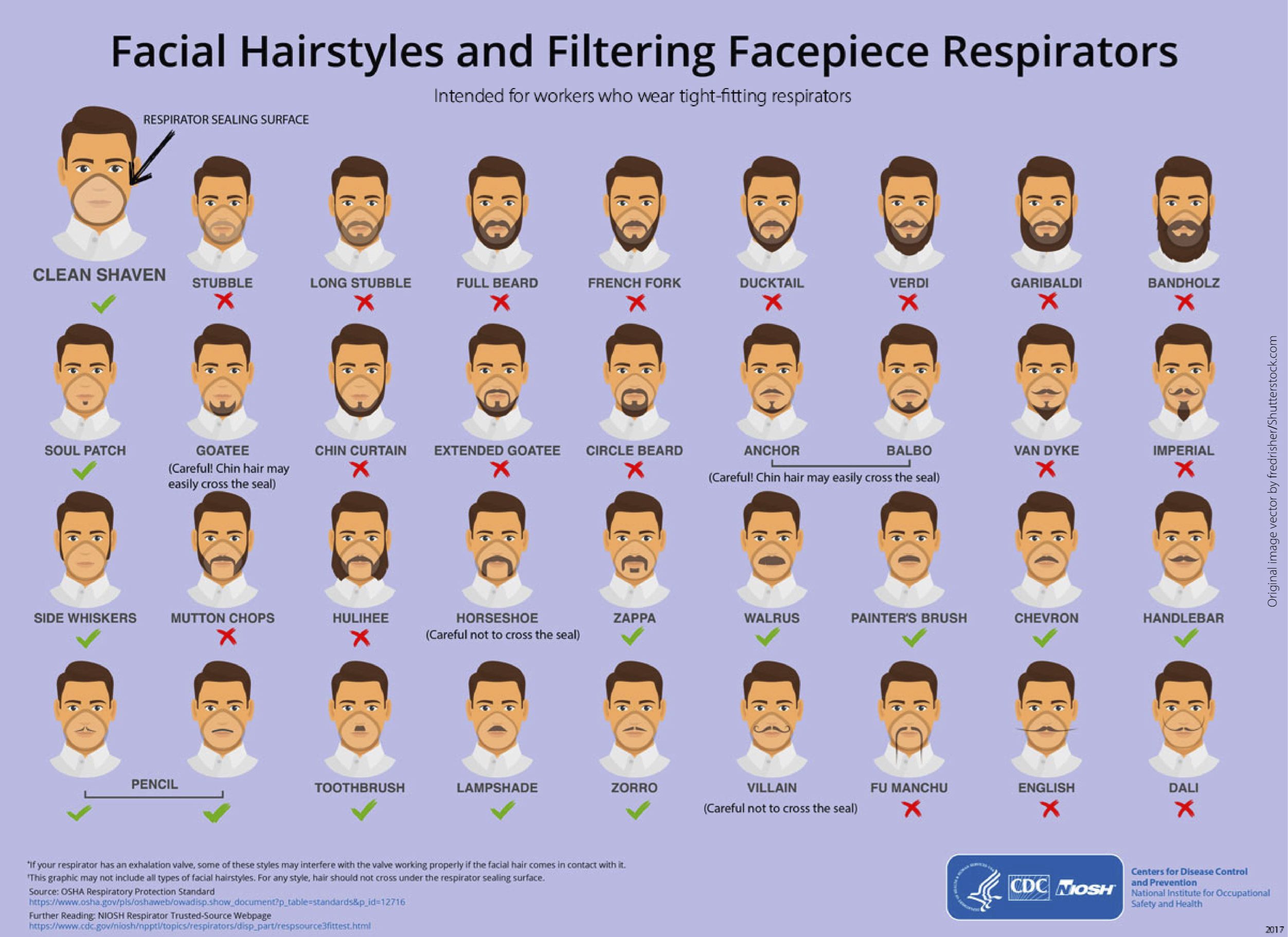 The first is that if you frequently need to wear an N95 mask for any reason, you should be following the CDC's guidelines. The reason for this is that there is concern surrounding the way an N95 mask is able to securely seal around the mouth and nose with the presence of facial hair. According to the CDC, it may not seal properly if certain areas have stubble or facial hair.
Beards and sideburns of any kind are among the facial hairstyles that should be avoided when wearing an N95 mask. In addition, beards are more likely to trap particles and germs, such as the coronavirus.
If you're looking to hold on to a bit of your facial hair, the CDC recommends focusing on the area around the mouth. Styles such as the soul patch, lampshade, zorro, chevron, handlebar, and pencil are among a few of the preferred recommendations.
The Importance of Skin Care for Your Face
Now that you know which hairstyles go great with a face mask, and what to do with your facial hair and eyebrows, it's important to cover one more topic — taking care of your face's skin.
Wearing a face mask all day is not great for your skin. And while a mask can cover up embarrassing acne or scars, it also highlights your forehead, which naturally becomes oily or glossy during the day — a deal-breaker even with the perfect hairstyle. If you have oily skin, we suggest carrying a handkerchief, oil blotting paper, or facial wipes with you to maintain your skin's condition and give off a better impression.
Face Masks Shouldn't Make Your Style Suffer
Wearing a face mask all day, every day doesn't mean that your sense of style should suffer. In fact, masks can be quite the accessory if paired with the proper apparel and your hair is styled the right way.
Hair plays a big part in the way your mask will look and how others will perceive you. Trying any of the recommended hairstyles above, matching your facial hair and eyebrows to complement it, and maintaining healthy-looking skin is a great way to ensure that you stay on top of your appearance during these trying times.