Men's Crop & Crew Cuts: 13 Styles to Keep You Looking Sharp
Crop Cut vs. Crew Cut: What's The Difference?
When it comes to men's hairstyles, the crew cut and crop cut may seem like two peas in a pod, but in reality, they couldn't be more different. The crew cut is a classic choice popular amongst stylish military men for decades. It's sleek, easy to maintain, and boasts a dapper pompadour on the crown. On the other hand, the crop cut is a modern take on the short style and features a longer fringe and top, which contrasts with the buzzed or shaved sides above the ears. There is one main difference: the bangs. On crop cuts they hang down on the forehead, whereas on crew cuts they are styled up or are short enough to stand up on their own. For an edgy twist, crop cuts are often paired with fades to create a contemporary and effortlessly cool look.
Crop Cut Styles
Are you ready to switch up your hairstyle game? The world of "crop" hairstyles is an exciting and versatile option you don't want to miss out on. From low-maintenance fade cuts to textured styles, a cropped look could be perfect for you and your unique fashion sense. To help you find your new go-to haircut, check out our top picks for the hottest crop hairstyles around.
French Crop
The French crop hairstyle blends classic and modern styles, creating a unique and fashionable look. The sides are trimmed short, reminiscent of a buzz cut, while the top is voluminous and sleek. This hairstyle is versatile, and you can easily style it for a casual or formal occasion. Plus, it's incredibly low-maintenance, making it an excellent choice for people on the go.
French Crop Low Fade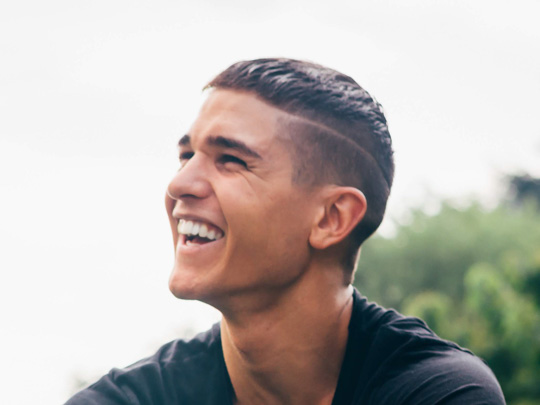 The French crop low fade is precisely what it sounds like -- a French crop/low fade combination that's as stylish as it is original. This style features short to medium-length hair on the top with a textured, layered look, while the sides are tapered and gradually fade down towards the ears. The result is a sophisticated and stylish cut you can customize to suit any face shape or style.
French Crop Burst Fade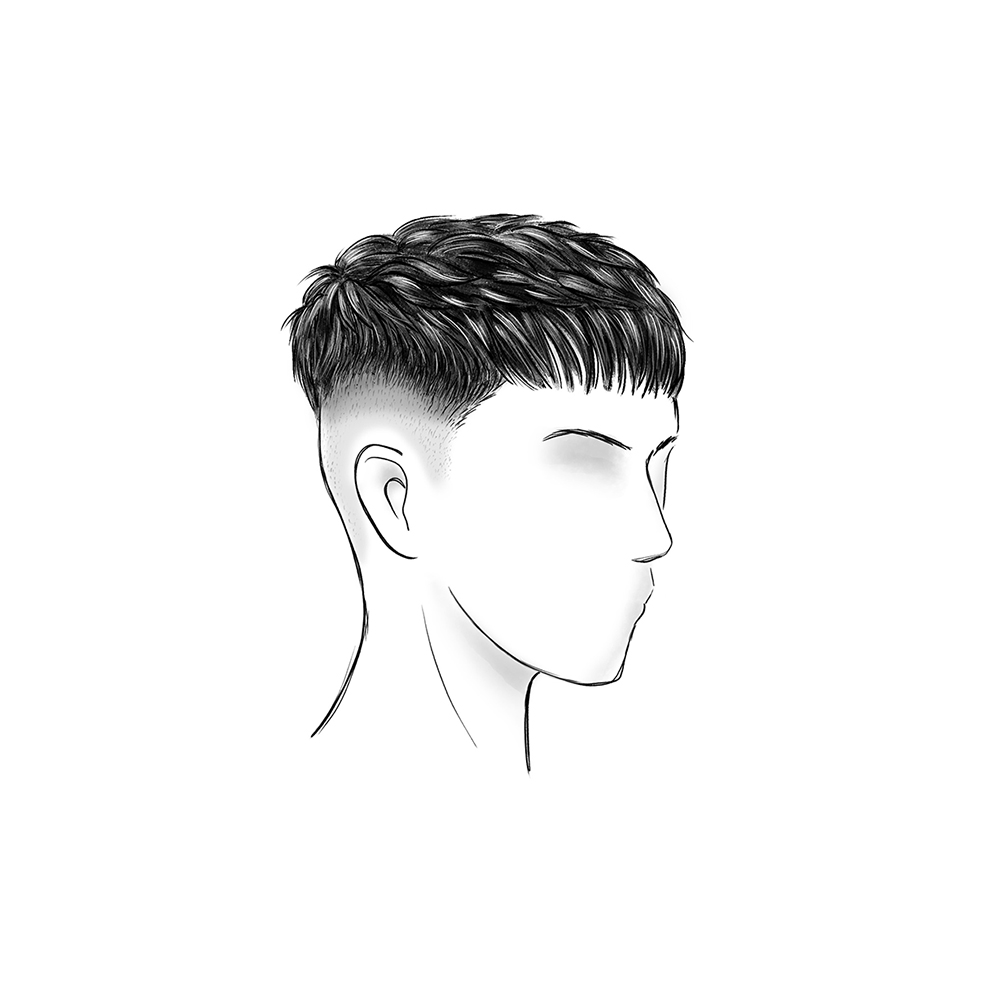 If you're a guy looking for a striking yet low-maintenance hairstyle, the French crop burst fade could be just what you need. This style combines the timeless French crop on top with the previously mentioned fade but with one bold modification. Instead of gradually fading down to the ears, the burst fade rapidly tapers around the ear and back of the head.
Textured Crop Haircut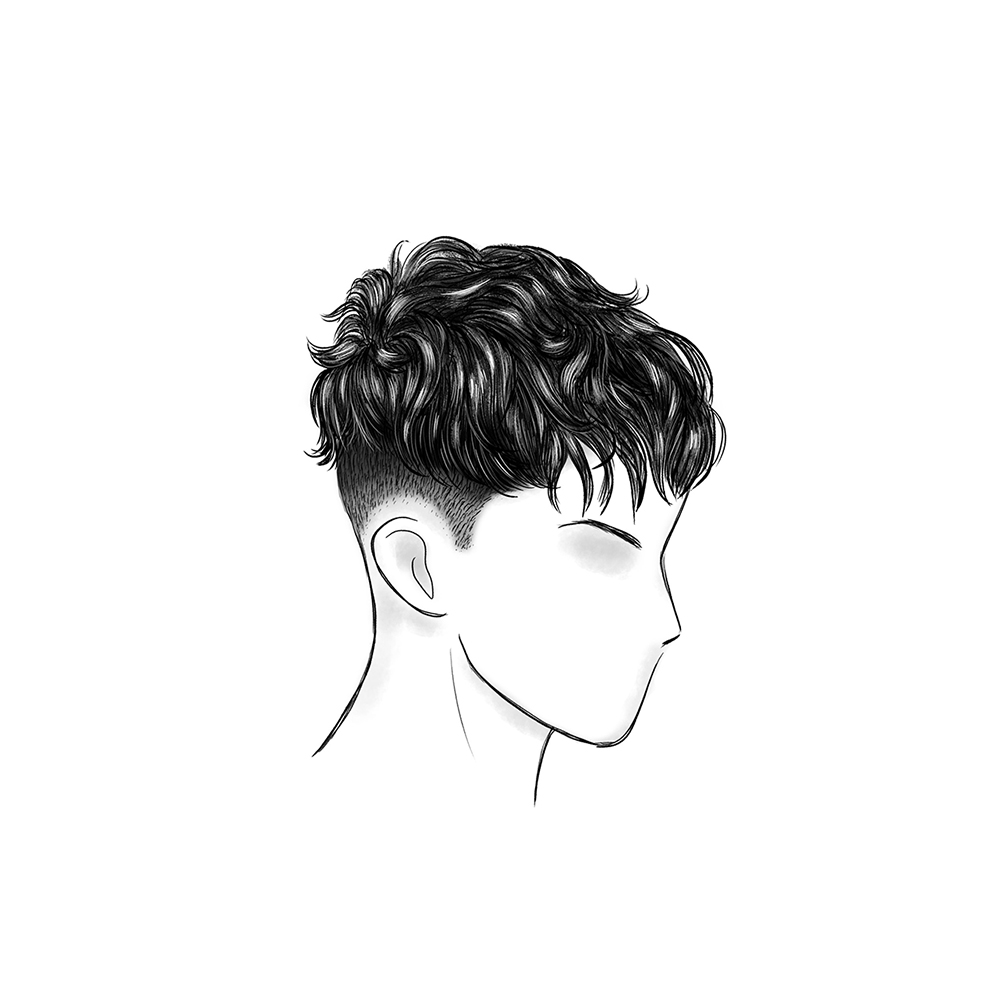 The textured crop is a short hairstyle where the side and back hair are trimmed shorter than the top. We call this style "textured" because it allows men plenty of room to experiment with the top of their hair. Men who like to stay fashionable usually wear it with a fade or a taper.
Crew Cut Hairstyles
Crew cuts are just as diverse as crop cuts. They were originally popular among college crews, or rowing teams, which is how they got their name. Crew cuts are a traditional, easy-to-spot style that leaves a ton of room for customization and personalization. Here are a few suggestions if you need help deciding which direction to go with your crew cut.
Traditional Styles
Classic Crew Cut
The classic crew cut is a popular hairstyle that athletes have favored for many years. Nowadays, it's also worn by fashionable men and sports lovers alike. The cut features longer hair on top and shorter hair on the sides and back. The hair on top gradually gets shorter as it moves from the front to the back of the head. Overall, the crew cut is a timeless look that never fails to impress.
Long Crew Cut/Ivy League Cut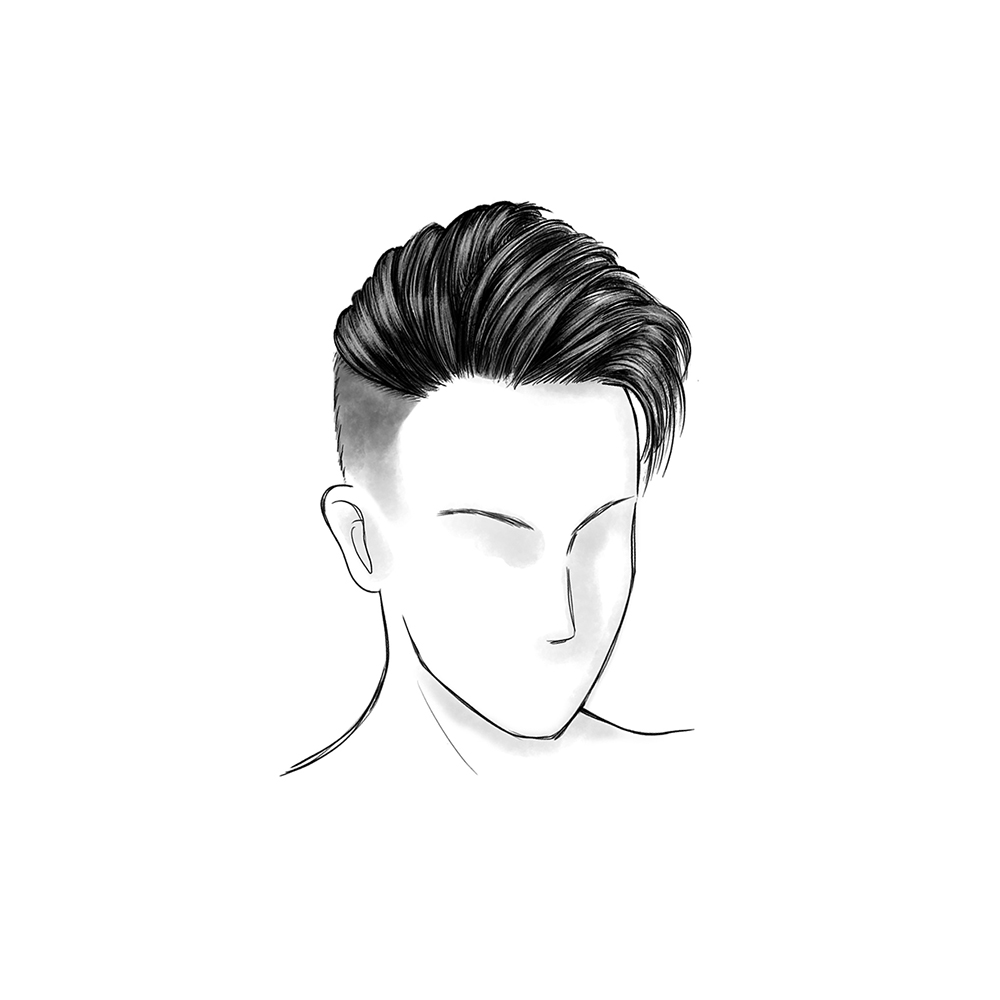 Since crew cuts offer some wiggle room in length, the next crew cut on our list is a long crew cut. This lengthier variation uses a few inches of hair on top of the head, pairing that with the traditional tapered and shorter sides. As a rule of thumb, hair on the top of the head that is short enough to stand on end without flopping over — regardless of its exact length — can be considered a crew cut.
Military/Short Crew Cut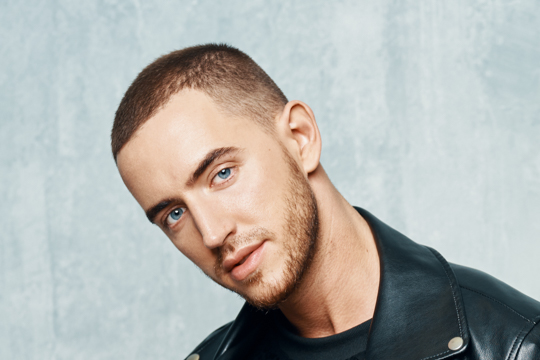 Military crew cuts got their names because they were popular with men who fought in WWII. They follow a classic crew cut template, with shorter hair on the sides and back. The front of the hairline is slightly longer while remaining "short."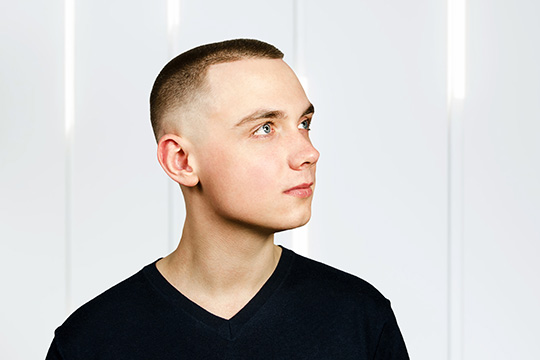 The short crew cut is a variation of the already short crew cut hairstyle, with an even shorter length. It is achieved by buzzing the head to a short length and then buzzing the sides even shorter, creating a gradient effect towards the ears.
Crew Cut, High Fade, and Full Beard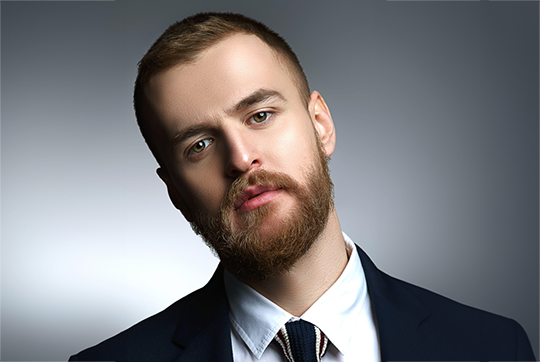 The classic crew cut can be transformed from simple to stylish when paired with a high fade and full beard. This crew cut style is ideal for men who want to rock their natural beards while also sporting a chic, slick, polished, trendy haircut.
Unique Styles
Next, we suggest some crew and crop cuts that are so unique that they could be considered hairstyles in their own right. These styles are highly adaptable and can complement a range of clothing options
Unique Crop Cuts
2 Block Haircut/Modern Bowl Cut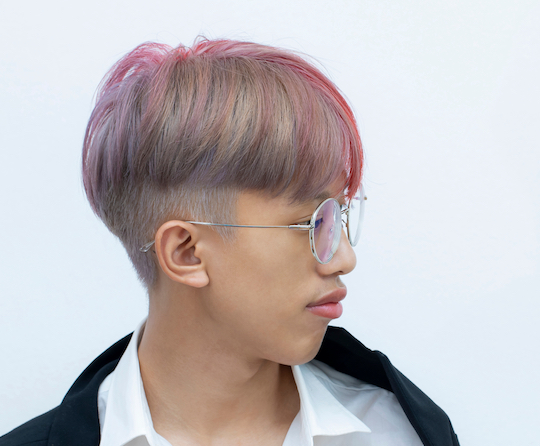 The 2-block haircut, also known as the "modern bowl cut" and the "Korean bowl cut," is a trendy K-Pop style. It features short sides and back, with longer hair on top, typical of crop cuts. However, this cropped cut is distinguished by the layered longer hair on top, creating a messy yet stylish look.
Unique Crew Cuts
Undercut Crew Cut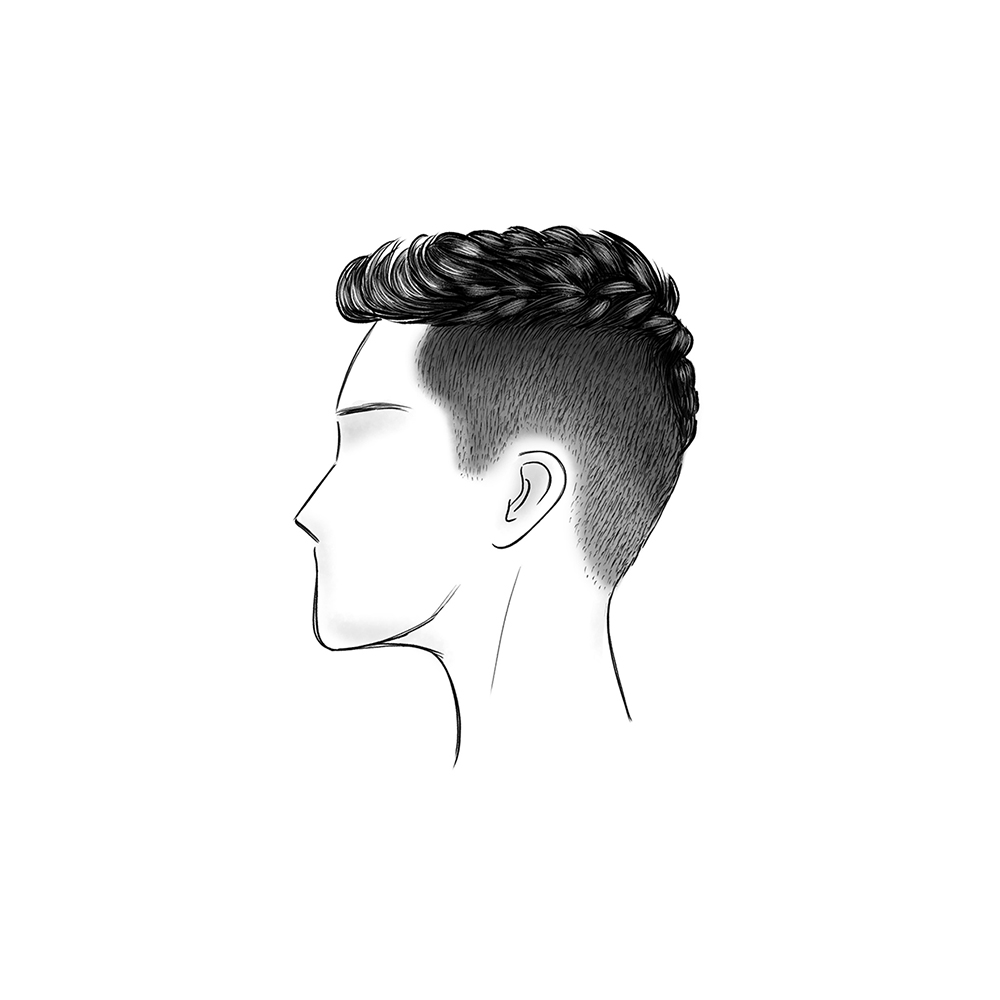 The undercut crew cut is a stylish blend of classic and modern undercut, featuring longer hair on top and distinct, faded sides. The added length on top is even greater than that of a traditional crew cut, creating a bold and unique look.
Curly Crew Cut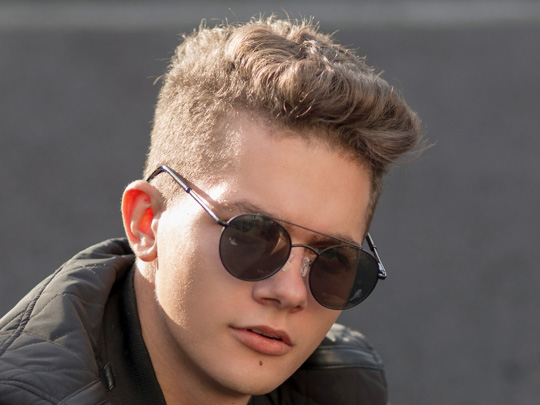 Although you usually see it on men with straight hair, men with curly hair can sport a crew cut, too -- and it looks great! Curly crew cuts go great with various fades and can be even more eye-catching with styling products.
Crew Cut with Hard Part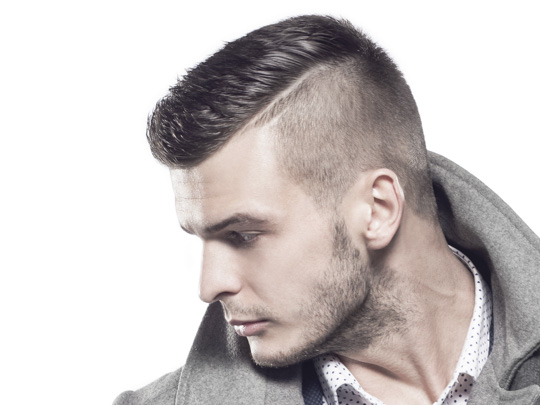 The crew cut with a side part is an excellent option for the modern working professional, looking classy and appropriate for the office while staying young and stylish. When creating this hairstyle, you can use the extra length on top to fashion a comb-over. The barber will make a "hard part" by shaving a neat line that separates the longer hair on top from the shorter hair on the sides. The part gives a distinct look to the style and adds an element of class.
Side Swept Crew Cut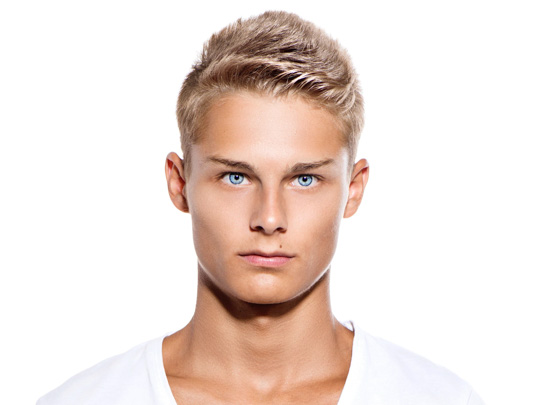 A side-swept crew cut is a clever mashup of the classic crew cut and the ivy league. This cut is, as its name suggests, styled to one side. There is no defined parting, so styling products are necessary to maintain this look. The product is worked into the longer hair and then combed or swept neatly to the side.
Spiky Crew Cut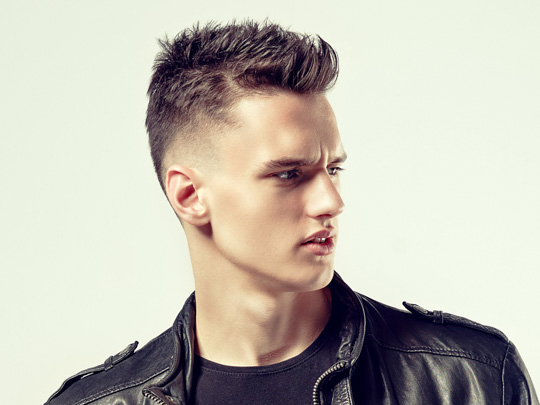 Spikes can make any hairstyle look like a million bucks — and the crew cut is no exception. Pairing top ends with the short, shaved sides of the classic crew cut gives every man a certain amount of edge. Typically, spiky crew cuts require the upper hair to be slightly longer. It may also need a light amount of product.
Styling and Maintaining a Crew Cut
Maintaining and styling a crew cut will depend on the length of the cut and the individual style that the barber has created. If the crew cut has longer or textured hair, it will require product. We also recommend having a good brush and comb on hand.
Shorter crew cuts don't necessarily need fancy accented designs or products, instead relying on only thorough washes and regular barber touch-ups to maintain the look.
Texture spray, such as sea salt spray, is a popular product for men with crew cuts of both short and long lengths, as it adds an extra layer of dimension and interest. Gels and waxes that provide a soft yet sturdy hold are also popular.
Conclusion
Men's crop and crew cuts are popular hairstyles that are here to stay. New variations of these classic cuts emerge and gain popularity across North America, Europe, and Asia every year. The great thing is that no matter your personal style and preferences, several crop and crew cut variations are guaranteed to suit your desire for a short haircut.